Should I Buy or Lease My Next Vehicle?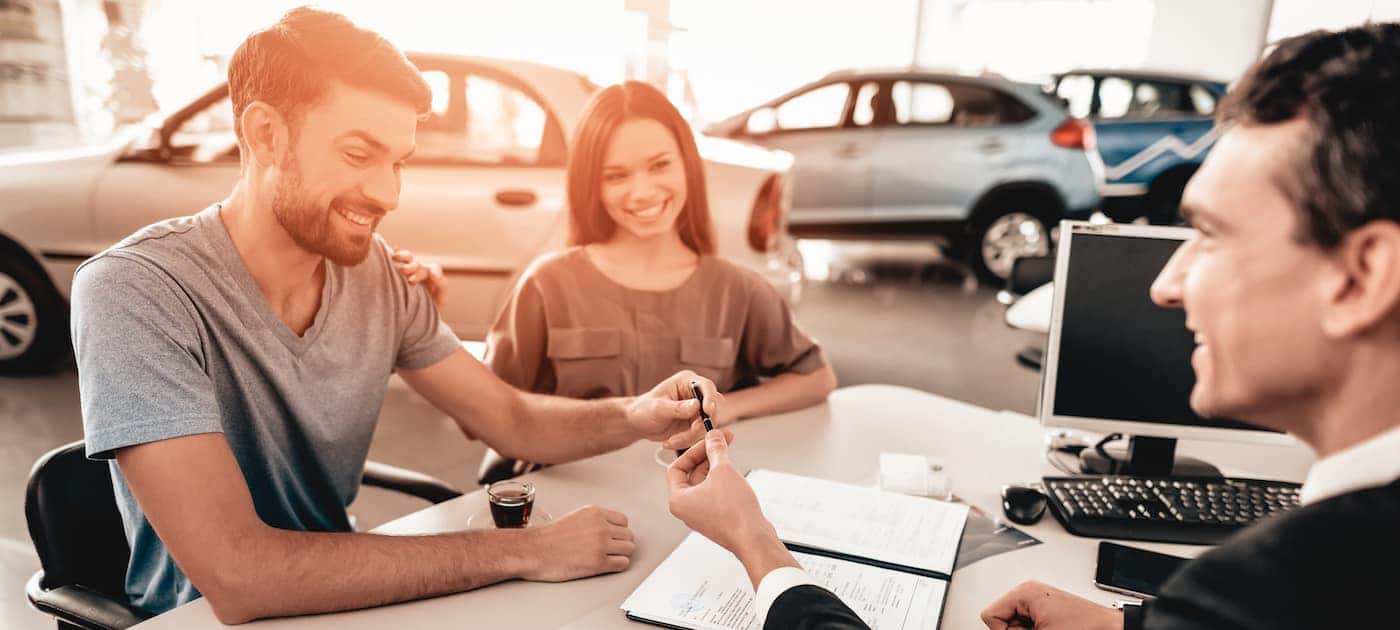 Should I buy or lease? This is a question that just about everyone asks at one point or another Thankfully, the Royal Automotive Group has done the research for you:
Generally, leasing is preferred by drivers who don't mind a few limitations, and who want to stay up to date with all the latest features. It's also a better option for the driver who wants the lowest available monthly payment.
Financing your vehicle purchase is a better option if you want to drive without mileage limitations, or if you like to own your vehicles for the long haul. Although you might face higher costs up front, those who pay off their loans will enjoy impressive savings.
We've put together an in-depth guide to the benefits of both paths, so keep reading to learn more! Once you've chosen your route, explore our monthly specials and discounted used vehicles to find a model for the right price.
What Are the Benefits of Purchasing?
Drive Without Restrictions – When you finance and purchase your vehicle, no one can tell you where to drive, or how often to do so.
Total Ownership is It's Own Reward – Even if you have to work to pay off your loan, you can eventually own any vehicle you're able to finance. You can modify, customize, or decorate your vehicle in any way.
Sell At Any Time – When you lease, you're locked into a contract. When you finance, you can choose to sell your vehicle or upgrade at any time when it's convenient. You can even value your trade with the Royal Automotive Group for an even easier experience.
Refinance for a Lower Rate – Your interest rate is determined in part by your credit score, but if you buy a car and make on-time payments for a year, your score may have improved! It's often possible to refinance for a better interest rate.
What's the biggest benefit of buying? Aside from the fact that you'll enjoy full control over the vehicle in your possession, you'll have the option of buying used! Since used car leases are so uncommon, choosing to buy just might be the best way forward for the driver who's working with a tight budget.
What Are the Benefits of Leasing?
Lower Monthly Payments – It's no secret. When you lease, you're likely to enjoy lower monthly payments compared to financing. This is because you're only paying off the depreciation during the period when the vehicle is in your possession.
Lower Sales Tax – Although the laws can vary in some states, most drivers who lease will only pay sales tax on the payments which they actually make on the vehicle. When you buy, you'll pay tax on the entire purchase price of the vehicle.
Starting a New Contract is Simple – When your leasing contract expires, getting into a new vehicle is as easy as one-two-three. Simply visit Royal Automotive Group, explore your options, sign a new contract, and drive home in your new car.
It's Easier to Experiment – Maybe you're not sure of what kind of car you'd like to drive. Maybe you want to explore all of the available options before you commit to a long-term loan! Since leasing contracts only last a couple of years, it's easier to explore multiple options before you buy.
Although new vehicles and certified pre-owned models generally come with extensive warranty protections, it's worth noting that most leasing agreements include even more coverage. Since the dealership remains the ultimate owner of a leased vehicle, it's in their interest to ensure that it's cared for. So, as long as you're receiving essential services, you can expect your service costs to stay low.
Compare Lease vs. Buying Options in Person!
Still wondering, "Should I buy or lease?" It's worth noting that in either case, you'll have the Royal Automotive Group finance team on your side, during every step of your journey. You can even use our lease or loan payment calculator to see which offers can help you enjoy the lowest monthly payment. Set up an appointment today to learn more or get pre-qualified!
More From Royal Automotive Group
Whether you're hoping to buy new or used, you have every reason to be excited about the Kia SUV lineup. Get to know each of your options by reading on and start to determine which model is right for you. Then, come visit your local Royal Automotive Group dealership and test drive your favorite models today! Explore…

Kia is known for packing tons of standard features into their affordable, reliable vehicles, and the 2019 Kia Optima is certainly no exception to the rule. So, for a starting price of $22,990 MSRP, what can you expect from the Kia Optima interior? Just for starters, you'll receive the Kia UVO infotainment system, spacious, supportive…

Choosing to buy a used SUV is a great choice for Oro Valley area drivers. You get all of the capability, versatile cabin space, and safety you expect from an SUV at a low used car price. Here at Royal Automotive Group we carry a fine selection of used SUVs from a wide variety of automakers, all in…